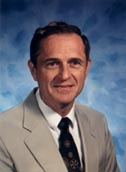 A trained linguist, Dennis Kastens holds an A.A. from St. John's College, B.A. from Concordia College, Fort Wayne, Indiana, an M.Div. from Concordia Theological Seminary, St. Louis, Missouri and an honorary Literary Doctorate conferred by the latter in May 2000. His undergraduate major was in German with minors in Latin, Greek, and Hebrew. As a translating attache, his travels have taken him to various European countries, including those once in the East Bloc and former U.S.S.R. He has conducted genealogical and family tours overseas, and during alternate summers, has offered instructional courses in conversational German and New Testament Greek.
As a second generation American, he was reared in a bi-lingual setting, within a household maintaining ancestural values and customs, and which retained ongoing social and literary contact with overseas relatives. His last forebear left Europe in 1946 with the passing of his great-grandmother in Alten Buecken (a suburb of Hoya), Germany.
As a clergyman of the Lutheran faith, he has served congregations in the Mid-Pacific (Hawaii) and Mid-West (Illinois, Colorado, and Missouri) since ordination in 1965. Alongside family history publications, he has written curriculum and devotional materials for his denomination, and has authored sermon books and articles for religious journals and magazines.
He is married to Alice C. (Nobe) Kastens of St. Louis. They have two grown children and five grandchildren.